Pattern Mixing — Just Do It!
If you're bored with your home décor, one way to spice it up is by adding patterns and textures. Some people warn that pattern mixing is tricky—and it can be—but we encourage you to give it a try! Our interior designers can help you follow these steps to mix patterns to add interest and intrigue to your home's décor!
Pro Tips on How to Mix Patterns
It's fun to play with patterns, so give it a go! Here are several points to consider when mixing patterns in your home or office. Pattern mixing is more successful when color, scale, style and balance come together.
Size, Scale & Complexity — Look for large patterns to mix with small patterns. Complex small-scale textures or patterns on a couch can look great with large-scale graphic pillows. Take pictures of pieces you like or pin them so you can view them together before making your purchase.
Color — If you're unsure about mixing patterns, see if you can maintain the same color scheme to create interest without chaos. Even if you're drawn to bold colors, you can use bright or dark hues as the dominant color for more than half of the room, while giving secondary colors about a third of the space.
Style — If you like Boho style, you're in luck when it comes to mixing patterns, because that is what Boho style is all about! Boho blends everything from shaggy rugs to woven lamp shades to geometric designs. Bring bold florals into a Boho design for a fantastically fun and feminine feel! Other design styles can avoid falling into the trap of being too neutral and boring by adding a couple of bold or large patterned accents. It's great to have a more neutral sofa and chairs when mixing patterns!
Balance — Keep visual balance in mind as you select patterns. In other words, have a focal point in mind. If you want the eye drawn to the mantel, make bolder choices in art and vases for the mantel, while choosing calmer patterns for the couch and chairs.
Interior designers have experience and knowledge in all of the design principles that can make your home décor stunning and suited to your lifestyle. Contact Dwell Interior Design to make an appointment that can make you love your home, functionally and aesthetically.
Interior Design Pattern Ideas
Trendy patterns can mix and match to create startling effects! Don't be afraid to place a floral pillow or throw into the mix of an otherwise modern space. If you love it, that's all that matters! Here are a few ideas for pattern trends that you might want to look for in our showroom:
Geometric Patterns — Add movement with bold or subtle geometric patterned upholstery, rugs, pillows, and other design elements. Many options are available, as geometrics of all types are on trend.
Natural Textiles — Our showroom is full of nature-inspired pillows, rugs, and accent pieces. Mix natural elements together, or pop a natural woven rug under leather furniture.
Floral Patterns — If you love flowers, check out today's blown-out floral-inspired patterns in everything from wallpaper to accent pillows. Florals help provide color and pattern to a bedroom or great room.
Metallic Accents — A touch of metallic gold can bring luxurious elegance to a space. That can be a vase, lamp, or artwork that features your favorite metallic hue.
Stone — Always in style, stone like marble and granite is available in hundreds of patterns, and you'll find it in many accent tables and vases at Dwell Home Furnishings in Coralville.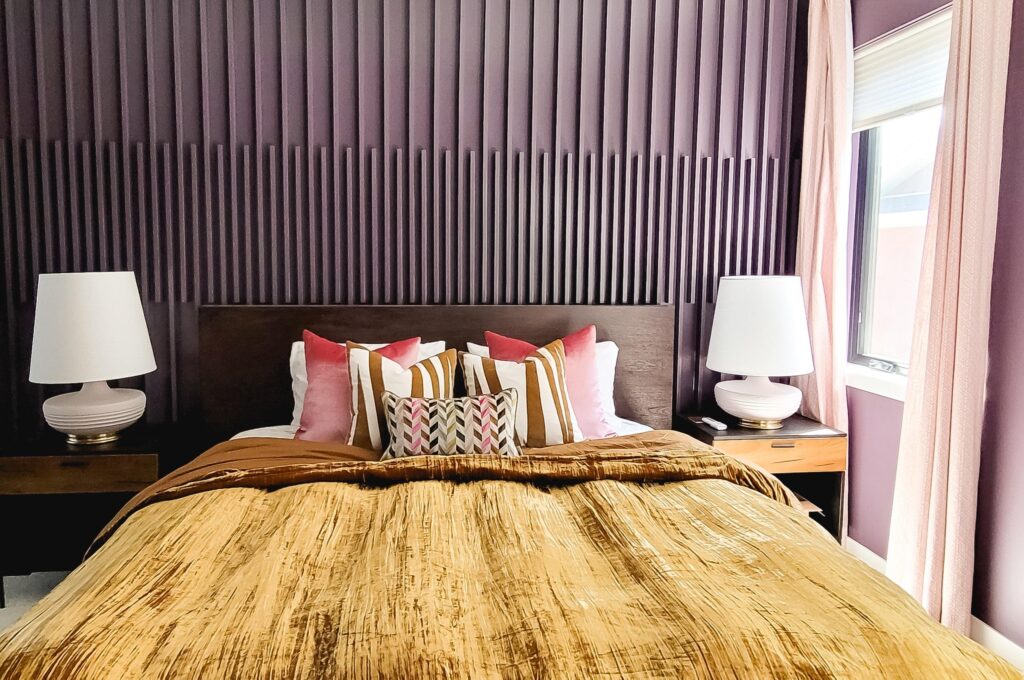 Are you ready to mix patterns in your home? Throw the rules out the window and just do it! When you want your home décor to align with your personality and taste, Dwell Home Furnishings & Interior Design can take your ideas to the next level. Please contact us anytime for a consultation, and visit our showroom in Coralville often for fabulous one-of-a-kind furnishings, rugs, and accents that will breathe new life into your space!