Time to Think Spring with Outdoor Furniture
Comfortable, Low Maintenance Patio Furniture for any Backyard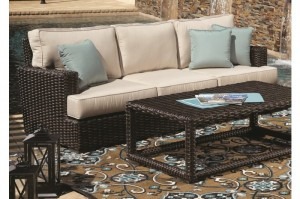 We're getting spring fever in Iowa and it's time to think about outdoor entertaining with patio furniture and outdoor furniture for around the fire pit that is comfortable, versatile and durable.
We spend all winter dreaming about the morning we can enjoy a cup of coffee on the porch, or grill on the deck and spend the evening out by the fire, but having a nice chair and a side table to set your drink on, makes the experience even better.
Your outdoor spaces can be an extension of your home if you choose attractive, comfortable patio furniture that has the feature you need for entertaining. With fire pits, fire tables, brick ovens, and outdoor kitchens, your backyard can be as homey as the living room.
Buy Once, or Buy Every Couple Years
You have a choice as to whether you buy high-quality patio furniture, or like to change it up every few years and purchase a cheaper set. You should know that in most cases you get what you pay for.
A high-end, timeless, heavy-duty patio table and outdoor chairs will cost more. It will stand up to the weather better, but will still need a certain amount of maintenance, and perhaps will fare better if it is brought in for the winter.
Some Things to Think About When Buying Patio Furniture
How much effort are you willing to put into maintaining your outdoor furniture?
The answer to this will help you decide what kind of patio table and chairs or outdoor lounge chairs you might want. Wood will need to be stained and sealed every year, and with all of the freezing and thawing in Iowa, would be best off kept indoors over the winter.
There are several types of metals, woods and plastics that can be used, and some are better than others. Some are heavier duty, others rust more easily, and still others will give you the look that you want. We believe that you can have it all if you are willing to take some precautions to keep it looking great.
Metal Outdoor Furniture – With a multitude of styles and colors available, metal is a versatile and beautiful choice. It can be durable, depending on what type of metal the patio furniture is made of, but it does hold heat when placed in the hot sun.
Aluminum – Does not rust, especially if it has a powder coat finish, but high-end sets are a bit more expensive.
Wrought Iron – If you're looking for a formal or classic outdoor furniture set, a wrought iron patio set might be a perfect answer. It is strong and durable, as well as very heavy, so it will not blow over easily. If wrought iron furniture is the best choice for your outdoor spaces, there will be some maintenance involved to prevent rust and corrosion. Wrought iron is much more comfortable if the design includes cushions.
Steel – If you're looking for super durable outdoor furniture, and you plan to leave it in the same spot, steel can be a great choice. It is very heavy, and if left unpainted, steel will rust. There may be some maintenance involved in ensuring steel furniture does not rust. Steel patio furniture should be stored inside to prevent fading or pitting.
Wooden Patio Furniture – While wood is sturdy and does not hold heat like metals and plastics, it is best to keep indoors or under a roof when not in use, as it will likely rot or the stain will fade. High quality woods will be more expensive, but will last for years and can be easily repaired if they do get damaged. Changing up cushion colors, paint or stains allows you to change the look of your patio or outdoor seating area, without spending a lot of extra money.
Teak – High-quality outdoor wood furniture may be made of teak. It is durable and this wood has natural enzymes that protect the wood from decay. Teak patio furniture can be left out in any type of weather without care if you don't mind the weathered grey that it turns. If you want to keep the new, pristine look, you will need to make sure it is stained and sealed regularly.
Cedar –Outdoor furniture made of cedar also has an enzyme that keeps it from decaying, so it will not rot in harsh or wet weather conditions. You can enjoy the natural weathered look of the cedar as it ages, or keep it stained or painted for a more pristine look.
Wicker – Wooden woven, or made of synthetic materials is lightweight and durable. You can buy weather-resistant wicker furniture, but the harsh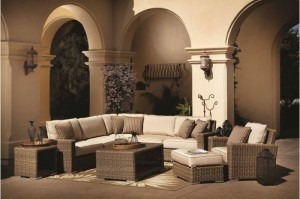 winter weather, so plan to store wicker inside, and it is best to keep them on a covered porch or under shelter. If you love the look of wicker but want it to be placed outdoors and fully exposed to the elements, you may consider synthetic or poly wicker.
Do you have a good place to store your outdoor furniture for the winter?
Many materials will crack, mold and weather when left out for the winter, so think about where you will store your outdoor furniture, or if you have a way to repurpose it in a 3-seasons room or basement during the winter months.
Will it be sitting in the shade, or creating shade?
If your new patio furniture will be sitting in the sun, or if the purpose of it is to create shade, choose pieces that are made is materials that will not fade in the sun or become brittle from the heat. Patio umbrellas and cushions should be fade resistant, sun damage resistant and fast to dry. You don't want to have to wait 3 hours after the rain stops to enjoy the clear air. Sunbrella fabrics, cushions and umbrellas offer bright colors and brilliant patterns that are notorious for holding to the weather and drying quickly.
A Variety of Outdoor Furniture Options
At Dwell Home Furnishings & Interior Design, we provide a plethora of medium-grade patio and outdoor furniture options on display and have the ability to order different sets or higher-end outdoor furniture if you don't see just what you're looking for in our showroom. Our furniture and decorating experts would l0ve to be of service, so stop into our Coralville Showroom if you're sprucing up your outdoor spaces this year. We have patio furniture by Lexington – Tommy Bahama, Gloster, Lee Industries, Lloyd Flanders and Sunset West.