Modern Media Cabinets & Entertainment Centers
As the winds blow colder and Netflix season comes in full force, you may find yourself wishing for an updated entertainment center or media cabinet. At Dwell we have a range of modern media cabinets that beautifully combine style with tech-friendly functions. Here are some of our favorites.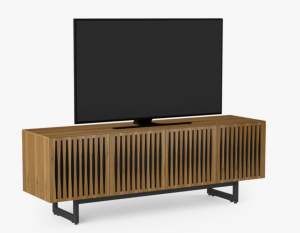 This piece is fully functional with vital cable management and venting to keep the electronics from overheating. In addition to the concealed soundbar shelf, the electronic center has door design options and a perforated metal face for lasers to reach the electronics on the inside.
Similar to the first, this media cabinet boasts integral cable management and integral venting. The open shelving allows the soundbar to be displayed without barriers. It also has remote-friendly glass doors for easy channel surfing.
If the aesthetic you're looking for is more to be heard and not seen, this piece fits the bill. The face of this cabinet looks like a speaker, with a perforated metal face for lasers to penetrate the electronics inside. Truly functional, this piece includes integral cable management, integral venting, and a concealed soundbar shelf.
While functional, with cable management holes on the back (as seen in the second picture), this cabinet is also sculptural, bringing some pleasing texture into the room for some cool aesthetics.
This choice is sculptural, chosen primarily for its aesthetics. And isn't it stunning? This is a piece you'll be happy to stare at for years to come. Ready to watch your holiday movies in style? Let us help you choose the perfect media cabinet for your needs and your space. You'll be kicking up your feet in no time!