6 Reasons to Hire an Interior Designer in the New Year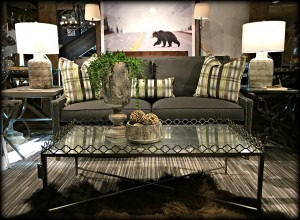 You have been looking at those blank walls for long enough, and while you have a vision of the perfect living space, you struggle finding the right colors and artwork to put it together. It's to make a New Year's Resolution, so make your resolution to hire an interior designer and get your home organized and decorated the way you really want it.
1. A Good Interior Designer Will Get to Know You
After looking at in-store samples and catalogues, perusing paint colors and drapes, and talking about what you have that you wish to keep in your home or a specific room, your interior designer will take that information and run with it. The designer will know how to take what you have and the colors, furniture and artwork they find to meld it into the look and feel you are hoping for in your home.
2. Choosing Color Schemes is Hard
Most people come up with one color that they love and try as they might to make that the prominent color in in the room. Not every color is meant to be the dominant color that overtakes every wall in your house. Pairing them with a softer version of the same color, or a marriage of a bolder color and a neutral like tan, grey or white may make for a more striking design.
But how do you choose the best color pairs? A trained interior designer will provide confident choices based on the colors and artistic styles that you tend to comment on.
3. Patterns are Scary
Yes… Patterns can be frightening when overdone! An interior designer will find a pattern you love and use it for the focal point of the room, then accent it with other fabrics, textures and furniture that will not overwhelm the eye.
4. Problem Solving in Your Room or Home
Every project has its problems! Sometimes redesigning your home to be more sleek and less cluttered causes storage issues that make you have to rehome some of the things that you really should hang onto.
Maybe you are not sure how to create two distinct sitting areas in the room that you are designing, but truly need extra seating without cluttering the house with couches.
Perhaps you just need more balance and are having trouble with that because of the room size or window placement.
A good interior designer will be able to look at your room and tell you if these things can be done, and suggest a couple of ways to achieve them.
5. Prevent Costly Mistakes
We have all done it… made a purchase that seemed like a great idea, got it home, and realized after spending the time and money that it really does not work. Whether it is curtains, area rugs, shelving, or furniture, they are all costly items that you just can't use for a week (to see if it grows on you) and then return it. A designer will find things you love and make it look great, or they will find something that suits you better
Paint is not terribly expensive, but if you are doing the work yourself, it can be a time consuming effort that you hate to do over.
6. Procrastinator's Dream Come True
Since you have been considering doing this interior design project for a couple of years now. You know you need somebody to keep you on track and help you make important design decision. An interior designer will keep you engaged in decision-making, but will ultimately do the hard part for you.  Your house will finally become a home if you ask for help from a trained professional.
If 2016 is the year to complete your interior decorating project, contact the interior design team at Dwell Home Furnishings & Interior Design at 319-338-8909.