Get to Know The Design Team
Are you in the process of planning for a design project this year? Working with an interior designer from Dwell Home Furnishings & Interior Design is the perfect way to get the results you want! Our designers' guidance and expertise will help create a home that fits your lifestyle, accommodates your budget, and makes you happy. Get to know our designers and learn more about how they approach the interior design process. Plus, we'll give you a glimpse into their personal design styles and other fun facts about them!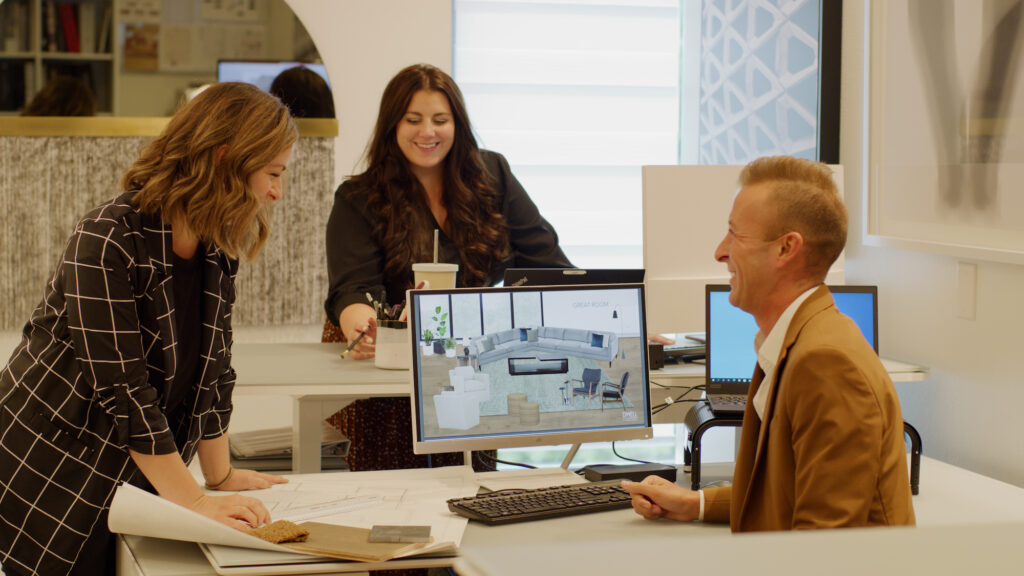 Meet the Interior Designers at Dwell Home Furnishings & Interior Design
Abby, Alex, Eve, Jackie, Sabrina and Timmy
Abby
For the last five years, Abby has been an interior designer with Dwell. Her career spans more than a decade since she earned an Interior Design degree from the University of Northern Iowa.
A true believer in Dwell's full-service design approach, Abby wants people to understand that interior design entails a lot of different avenues—not just furnishings.
"We love getting our hands on the entire project, from floor plans before ground is even broken to the last finishing touch accessory on a bookcase. The details matter, and the design is so much better when we get to advise and oversee everything to ensure the entire house or remodeling project is just the way it is supposed to be!"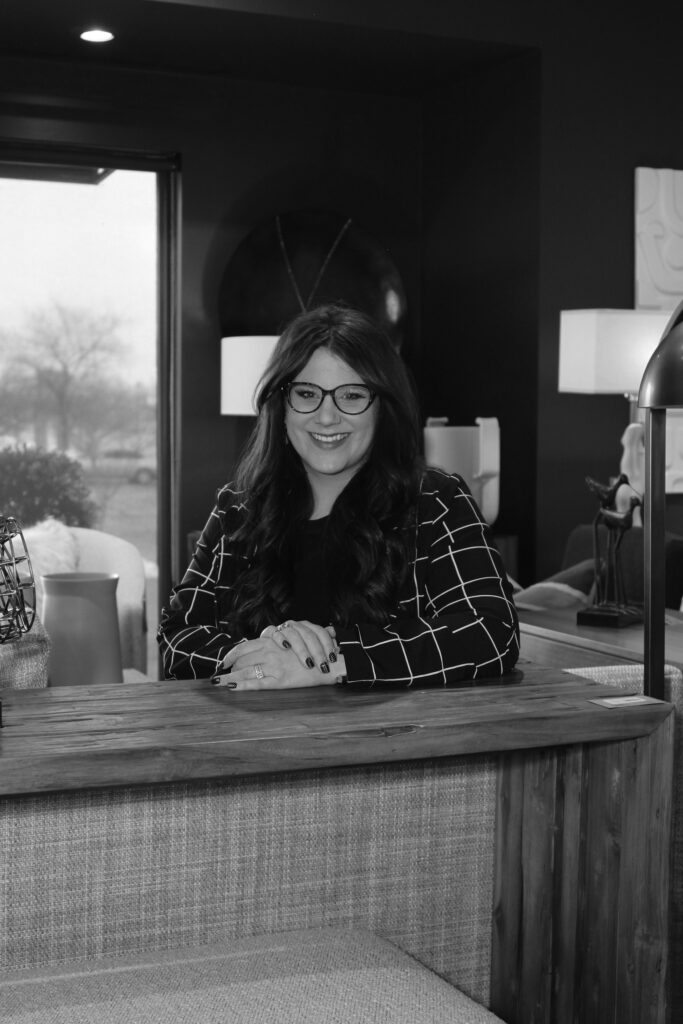 Abby's favorite part of her job is presenting design ideas.
"Taking a few notes from the client on what they like, meeting the constraints of function and spatial capacity, and then turning it into a beautiful design is fantastic. But the very best part is presenting your ideas and hitting the nail on the head with exactly what the client was looking for. Getting that reaction is the best!"
Personal Interior Design Style
Favorite Interior Design Trends
Vintage pieces
Curvilinear furnishings
The Maximalist Movement
Hobbies
Playing board games with her daughters
Crafting/scrapbooking
Reading
Podcast Recommendations
Alex
Alex has been an interior designer for the past 14 years—the last three with Dwell. Throughout that time, the Kirkwood Community College grad has ensured that client projects look amazing and scale and proportion details are on point. He also loves jumping in and out of other people's style preferences while assisting them with their homes.
"While I like Urban Modern design, I enjoy immersing myself in all interior design styles."
Alex wants you to know that interior designers aren't there to push certain styles on you or sell you more furniture.
"I and the other professional interior designers here listen to you and align budget, styling and function to make sure you are getting the most for your investment—and a space that meets your needs."
Personal Design Style
Favorite Interior Design Trend
Hobbies
Home and yard projects
Spending time with family and friends
Visiting local coffee shops
Instagram Recommendation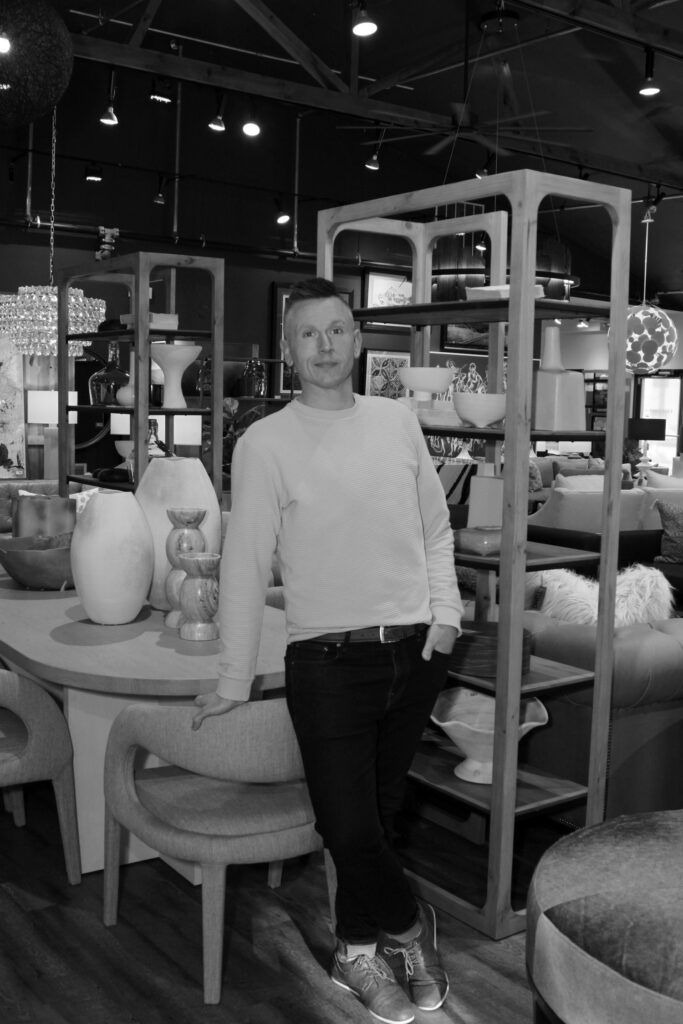 Eve
With two years of experience as an interior designer at Dwell Home Furnishings & Interior Design, Eve loves the process of gathering design ideas together for clients. She has degrees in Art and Communication Studies from the University of Iowa, so communicating designs effectively is important to her.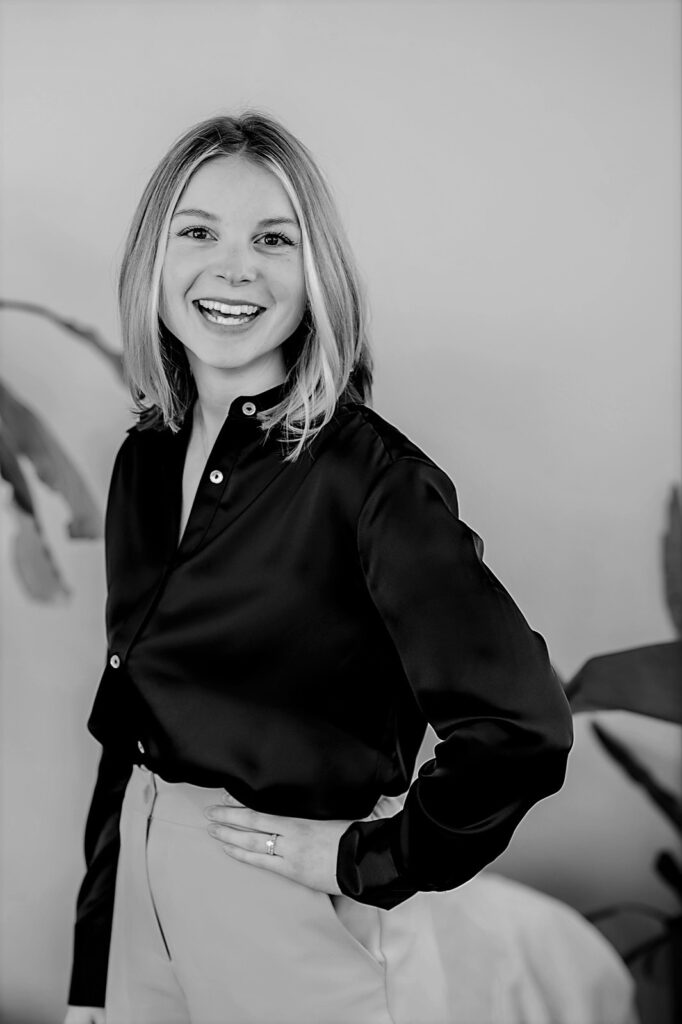 "I love prepping for our presentations—swatching textiles for each piece, finalizing our digital design boards, and laying everything out for the client to see, touch and feel. This helps us relay our ideas so they can imagine every detail of our design in their space."
She reassures people who might be working with a designer for the first time: "It's okay to not know what your style is! That is what we're here to help you with. We have many tools in our showroom to help you pinpoint the style, function and comfort that suits you. The first step is coming to us with an open mind. We can take it from there!"
Personal Design Style
Transitional with modern and traditional styles and touches of warmth and texture
Favorite Interior Design Trend
Juxtaposing traditional character and contemporary color palettes
Design Pet Peeve
Don't forget the details, like art and pillows!
Hobbies
Exploring Coralville and Iowa City with her husband and toddler
Iowa football tailgating
Managing muddy footprints made by the family's Goldendoodle, Goose
Jackie
Jackie attended Kirkwood's Interior Design program and started her career in 2009. She joined Dwell Home Furnishings & Interior Design in 2021. Jackie listens closely to her clients' needs and works to break people out of the design rules. In her own pet-friendly home, she gives her dog an ottoman all to himself and applies her experience with cleanable materials for clients who also own pets.
"Interior design should be fun!" says Jackie. "My goal is to make you feel at ease and heard throughout the process."
Jackie enjoys bringing comfortable designs together, plus she feels fulfilled when she gets positive feedback from clients.
"I love taking all the notes from the client to make their home the most comfortable space for them. I love delivery day, as well—the look on the client's face when everything is placed. It really is the best thing knowing that when the client comes home every day, they are returning to a space that feels authentically their own."
Personal Interior Design Style
Favorite Furnishings Trends
The comeback of all things wallpaper
Mixing patterns and prints
Hobbies
Instagram Recommendations
Kami Gray @psychologieofhome
Brook Christen @nestingwithgrace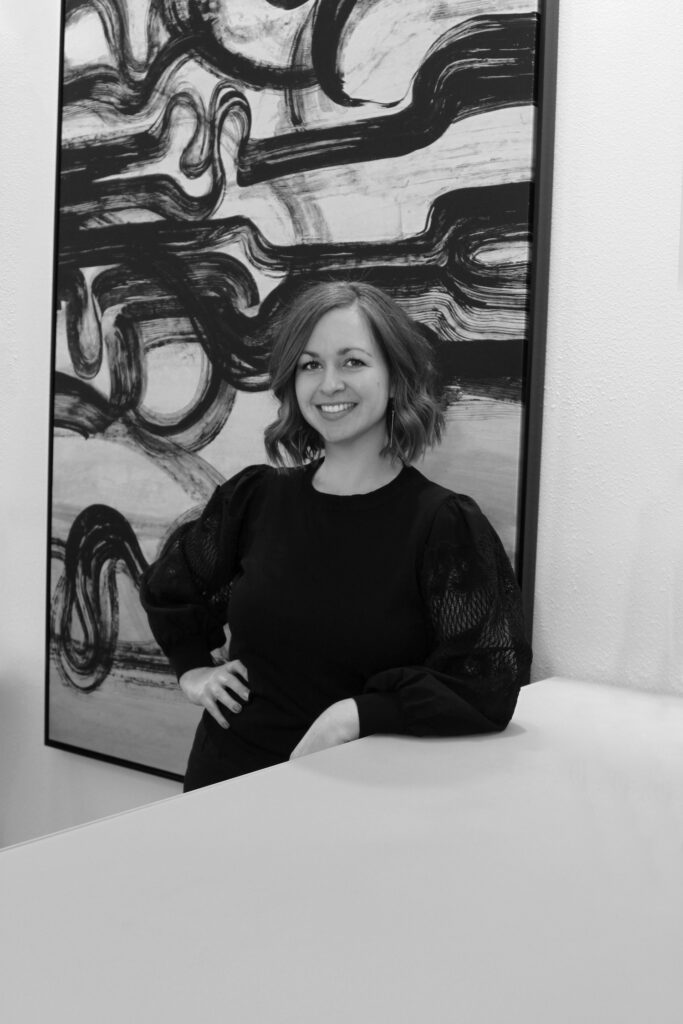 Sabrina
Sabrina studied Interior Design and Business at the University of Northern Iowa, plus she founded a National Kitchen and Bath college chapter there before starting her career in 2020. She has been with Dwell Home Furnishings & Interior Design since 2021.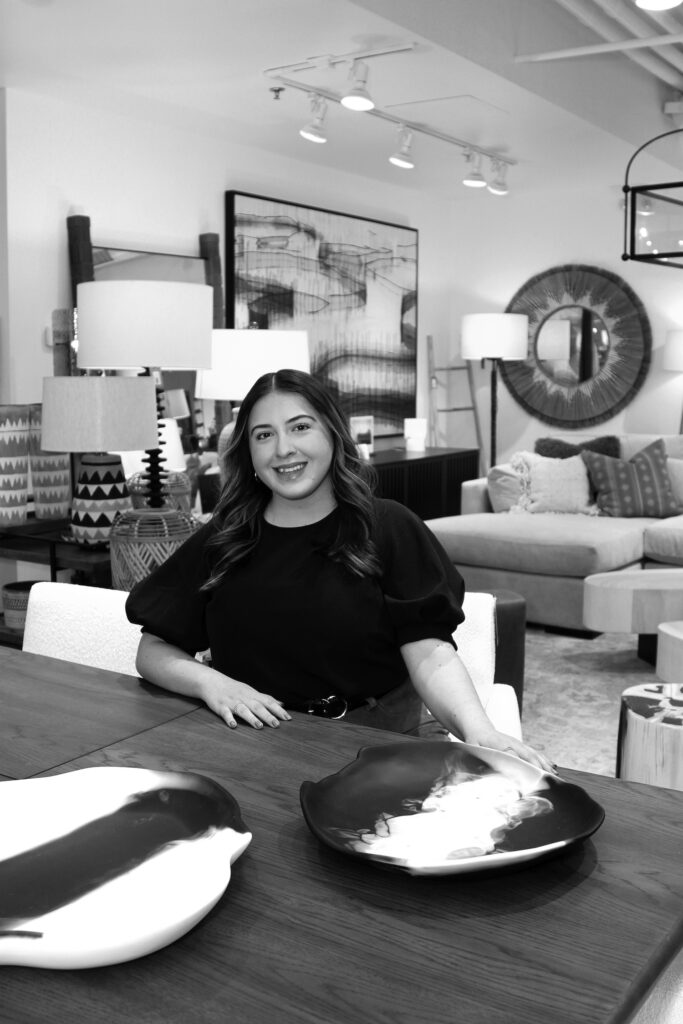 Her own home features a timeless neutral canvas rich with warm tones and some pops of colorful art, décor and pillows. She has also arranged the furniture to allow her pup, Kylo, space to play and easily roam.
Design collaboration and communication are paramount in the design process, and Sabrina notes that technology plays an important role.
"We use several programs to create layouts, 3D models and more. They allow us to effectively communicate ideas to clients and collaborate with architects, builders and construction teams."
The software tools lead to amazing results. "I love seeing the space go from a concept we've created to real life!"
Personal Interior Design Style
Transitional + Organic Modern
Favorite Furnishings Trends
Statement lighting/warm wood
Design Pet Peeve
Art that is hung too high or too low
Hobbies
Cooking
Crafting
Cheering on the Kansas City Chiefs
Instagram Recommendation
Timmy
Since 2022, Timmy has been a design partner working with the Dwell Home Furnishings & Interior Design team. Timmy's role is to bring your vision to life with 3D renderings, which are the result of using one of his favorite design tools.
Timmy loves how every client's needs are different.
"Every project is unique! There are very few 'one size fits all' rules, because each project is dependent on the individual space, its need for functionality, potential existing furniture pieces and design elements, budget, product availability, personal likes and dislikes, etc."
Personal Design Style
Favorite Interior Design Trend
Organic forms/curved pieces
Design Pet Peeve
Rugs and art that are too small for a space
Hobbies
DIY and home renovations
Music
Going on travel adventures with friends
TikTok Recommendation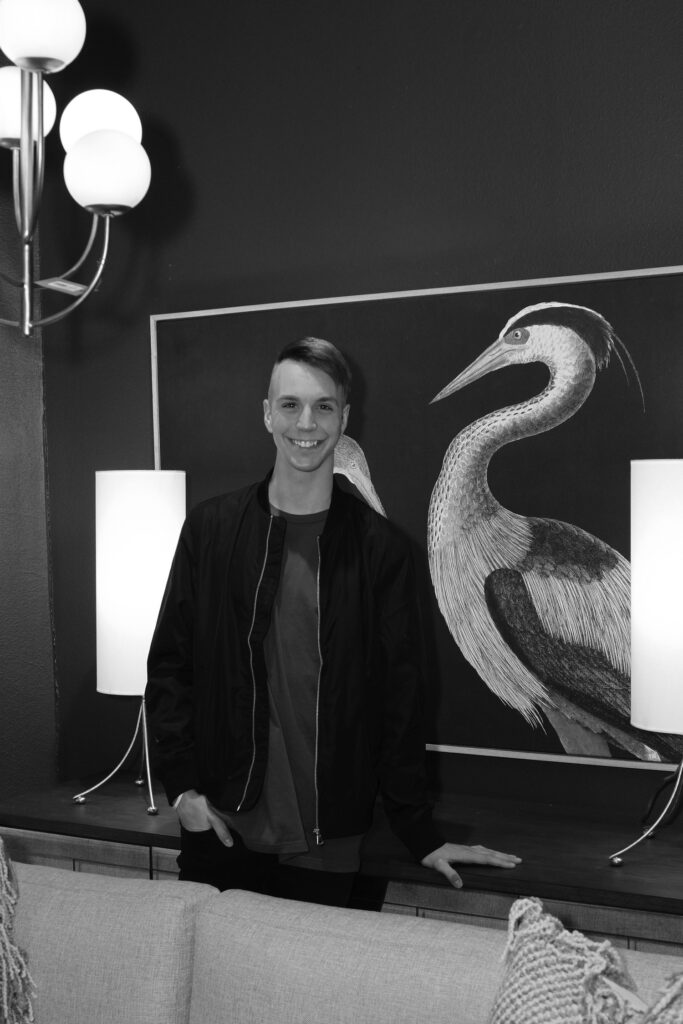 Sure, you can read our previous blog posts about choosing area rugs, mixing patterns and inspiring interior design styles, but why not meet with one of our designers? We can help ensure that your home design or remodeling project meets your budget, looks beautiful and meets your family's needs. Contact us today to connect with a designer.