Add a Splash of Color with Outdoor Rugs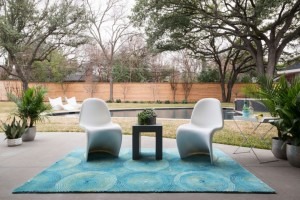 Design your deck or patio from the ground up with quality outdoor rugs. It's fun to add a splash of color to your outdoor spaces and find the perfect outdoor furniture and accessories to pull the look together.
Whether you're looking for a fun or elegant look, or want to cover up an unattractive concrete patio or old bricks, an all-weather rug may be a cost-effective answer.
You can choose from a wide array of colors, patterns and designs to compliment the exterior of your home.
Beautiful Area Rugs to be used Indoor or Out

Having trouble keeping the rug under your table clean and well maintained? Find an outdoor rug that will go beautifully in your dining room or under the kitchen table. You no longer need to
cringe at the fear of milk spills and food dropped from your kids' hands!
Outdoor rugs are made of ultra-durable, easily cleaned family-friendly fibers. High-traffic areas of your home, and places where food is regularly eaten are no match for a high-quality outdoor area rug. Your home should be a place where your family can live, not a showroom where every move is scrutinized because a mess might happen. Bringing an outdoor rug inside allows your family to live, play and eat, and provides easily maintained beauty.
Take Your Outdoor Rug to the Basement
Got a basement that has leaked and don't want to risk new carpeting? Paint the floor or use dyed concrete, and dress it up with an outdoor rug or two to make the space more comfortable and attractive. You won't have to worry as much if the hard rains, because you can just rinse it and hang it to dry when the sun comes back out.
Clean Your Rugs with Ease
Have no fear of stains and spills, because your outdoor rug can be taken out to the driveway and sprayed down with a hose. Allow it to dry in the sun for a while or hang it over a railing in the breeze, and your rug will be ready to put back in place and look like new in no time. Because they are manufactured to be in the rain and dust, outdoor rugs are made to be rinsed off and can just be washed with a little water and dawn soap. When you do this, make sure you put the soap in the water and then apply it to the rug, because otherwise it may cause blue dye stains.
All-Weather Rugs are Engineered to Take the Heat
The fibers and dyes in outdoor rugs are made to withstand the heat and sun beating down on them. Because they are engineered to be used outside, they are less likely to fade quickly and the fibers will not break down in the sun as fast as indoor area rugs.
Outdoor rugs are a great solution for those indoor areas that get a lot of sunlight too. If you have a south-facing window and want an area rug for a splash of color, an outdoor rug might be a great fade resistant.
Versatile Rugs for any Space
When you're decorating, and need a great area rug for the foundation of your furnishings, indoor or out, stop in at Dwell Home Furnishings and Interior Design and check out the huge selection of indoor and outdoor area rugs.
If you don't see exactly what you're looking for in the store, let us know! We are always happy to order something that will be perfect for your decorating style.