Choosing the Perfect Entertainment Center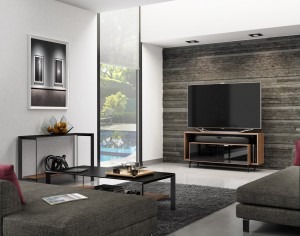 If you are shopping for a new entertainment center this holiday season there are many beautiful designs available in all shapes and sizes.
Whether your television hangs on the wall or stands on an entertainment center, this area is often the focal point in the family room or living room. It's now easier than ever to find attractive, functional pieces that work for both display and for storage of extra entertainment components, DVDs and books.
If you are thinking about purchasing a new TV or hooking up the family with additional streaming capabilities this Christmas, you'll want to think about adding an entertainment center with a more sophisticated or welcoming look.
5 Things to Consider When Buying an Entertainment Center
How large is the television you have, and will you be buying a bigger one in the near future?
Does the television hang on the wall and what other entertainment device storage and decorative purposes do you want it to serve?
How large is the room or how big is the wall that it will sit against? Will it cause crowding issues if it is too large?
What type of atmosphere does your living room convey? Rustic, casual, elegant, formal?
Do you want your entertainment center to double as a small library or as a display for collectables?
Other Furniture for Unique Entertainment Centers
Televisions keep getting larger, flatter and wider, so many older entertainment centers have become obsolete.  There are several furniture alternatives to traditional entertainment centers that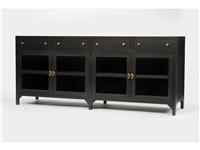 serve the same purpose while offering more interesting interior design options.
Buffets, decorative trunks, sideboards, armoires or media chests, and dressers can create the perfect space for your entertain equipment. This expands your interior decorating any number of styles including antique, contemporary, shabby chic and simple but elegant just to name a few. Whether you repurpose furniture you already have or if you are looking for new options, your home décor options are only limited by your imagination. If you see a piece of furniture you love that will work for the intended purpose, it does not matter what its original purpose was.
The Option of Moving Your TV Around the Room
If you only have one wall or corner that can realistically house your entertainment equipment, hanging your television on the wall may be the most logical solution. Even if you hang your television on the wall, you'll still probably need a storage solution for everything else. If your room provides more than one blank wall or empty corner, you may want a piece that will hold your television but also allows you to rearrange your furniture occasionally. If you're looking for a new entertainment center, or a unique piece of furniture that will look great in your living room, the experts at Dwell Home Furnishings & Interior Design, of Coralville, IA can help you find the perfect solution.