Designing Dual-Purpose Rooms for Your Side Hustle or Hobby
Whether you have a cozy condo or a larger home, maximizing space usage is probably one of your interior design goals. And, if you are working from home part of the time or have added a hobby or freelance side hustle to your life, you might want to dedicate a space to that purpose. So, how do you fit that in without compromising your style? How do you maintain your home's comfort without sacrificing your design aesthetic—or primary or secondary uses? Let's explore how to plan, furnish and style a functional and gorgeous dual-purpose room.
Dual-Purpose Room Ideas
Do you have a guest room that sits unused most of the year? How about a lounge area that the teens dominate in the evening that is empty at other times when you could pull out your favorite crafts? Is there a closet that could be converted into a cute little office? Give some thought to a few creative dual-purpose room ideas for your work, a side hustle or personal hobbies:
Office/guest room
Dining room/office
Pantry/office
Sewing room/office
Homework/crafting area
Laundry/home desk
2-person office
Understairs, closet or nook/workstation
Multipurpose space/office/hobby room
Lower-level media/game room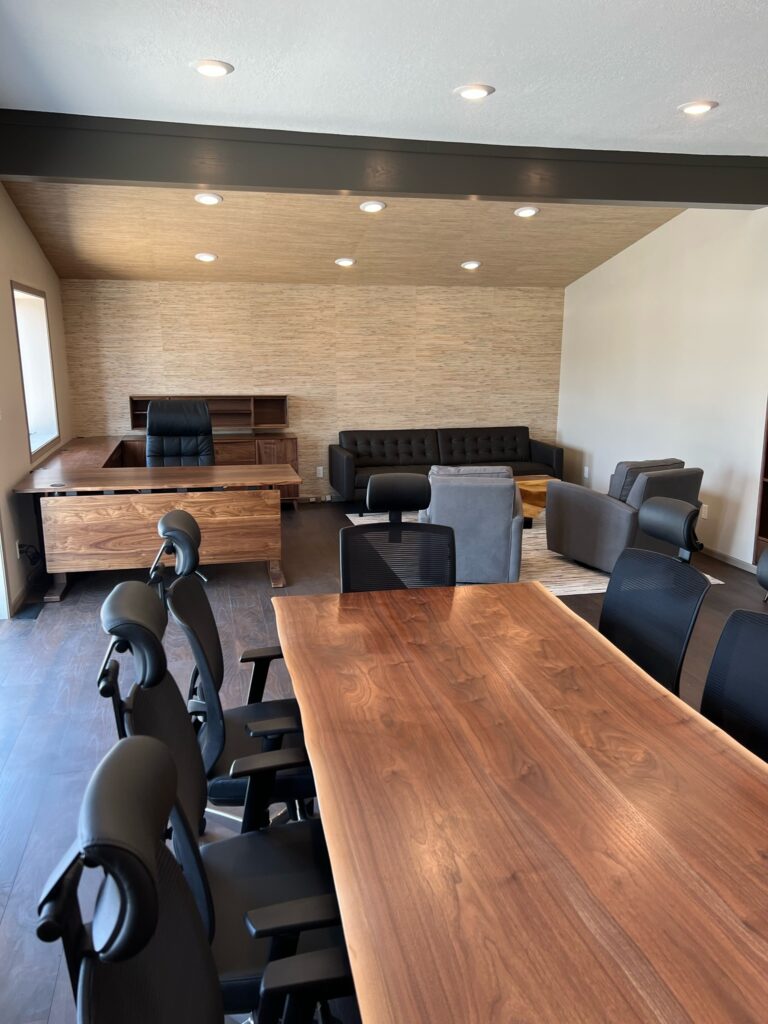 Set Up the Room for its Main Purpose
Your first step should be to determine the room's main purpose. What do you do most often in that room? If it is a guest room, you will work in it more frequently than you'll have guests, so lay it out for your comfort. That could mean pushing a guest bed against a wall most of the time to make room for your work desk and chair. Another option might be to repurpose the guest room closet as a dedicated home office. When guests arrive for the weekend, you can push the bed back into place, roll the desk to the side, and provide them with a luggage rack and hanging hooks on the back of the door for their clothing.
Space-Saving, Flexible Furniture
With the room's main purpose in mind, consider furnishings that save space, move easily on casters, or can be built in. More desks and beds can be rolled away or folded up to retain a tidy appearance when not in use.
We're not talking about your grandma's day bed or a dorm futon! Look for sleek and chic sleeper sofas to get more value from your living room, media room or lounge. When you visit the Dwell Home Furnishings showroom in Coralville, you will be able to learn more about American Leather Comfort Sleeper® sofas. This popular Texas-based furniture manufacturer has transformed the sleeper sofa concept by providing custom upholstery as well as optimal comfort for your guests.
Rolling furniture can turn small spaces into powerhouses of functionality. Consider a small rolling desk or rolling file drawers to add flexibility to a guest room/office. In a craft room, a rolling worktable, island and drafting stool could enable other uses of a room. When not in use, roll the work-related furniture out of the way.
Visual Definition is Your Friend
If you want visual definition in a multipurpose space, consider one of our unique area rugs as a solution. Area rugs are the best way to separate any space. In open-concept rooms like great rooms and recreational rooms, the floor plan can be divided into multiple vignettes with rugs. Rugs trick the eye into seeing areas as separate from one another while maintaining a cohesive whole in the room. To set a workspace apart from a living space, a well-placed area rug can delineate an office area in a living room, dining room or multipurpose area. Add a desk lamp, and you have an upgraded office with the task lighting you require.
Backdrops and Dividers
How you define the space can make a big difference in how you feel in the space. Take the time to make it engaging for you and for those who will experience it. For example, remember to think about what people will see behind you on video calls. Sure, you can replace your background in most videoconferencing apps, but you could also point your webcam toward a stunning feature wall that your clients and coworkers will notice.
Do you need separation from children or others in your home? You may need a divider, drapery, or door to provide privacy. When converting a closet into an office, drapery offers a more attractive and practical replacement for closet doors. They soften the space while hiding the computer desk and office supplies.
Dwell Home Furnishings and Interior Design can guide you to beautiful furnishings that light up your life and make working on your side hustle more fun—all while enabling you to keep guests comfortable. Our expert interior design team can also strategically design built-in desks and shelves that will elevate and refine a small-space office. Visit the Dwell showroom in Coralville for quality, on-trend furniture, one-of-a-kind area rugs, and unique lighting and other accessories.
---