How to Choose Upholstery for a 3-Seasons Room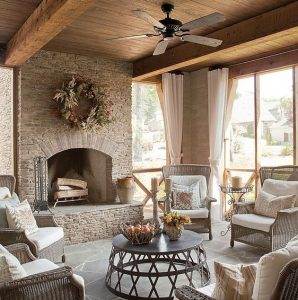 A 3-seasons room is a practical and often favorite spot in a home. The furniture and upholstery for the 3-seasons room can make an impression and add stylish function to the room.
Express Your Style in Your 3 or 4-Seasons Room
While some sunrooms are a catch-all for old furniture, yours can be a beautiful expression of your own personality, or your family's hobbies or activities. Pick a theme and find some textures you love to make your sunroom a place where people find comfort and are drawn to gather. Whether you choose traditional or contemporary seating, wrought iron or wicker, your upholstery selection can pull in your favorite colors and trendy patterns that making your sunroom your favorite place to be when the weather warms up.
Easy To Clean Upholstery Great for the Sunroom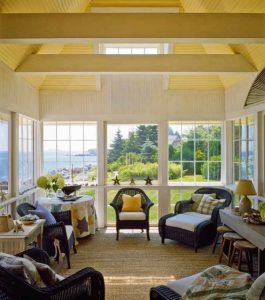 Life happens, so you may as well be prepared with 3-seasons room fabrics that are easy to clean.
Most often, 3 and 4-seasons rooms are located just off the kitchen, and in close proximity to the outdoor barbeque. That means you want comfortable, easy to clean upholstery. Sunbrella and other upholstery companies offer all-weather cushions and upholstery that can simply be spot cleaned with a light detergent and hosed off to get back their original appeal.
Fade Resistant Upholstery is Best
With windows on 3 sides of the room, the sun is bound to beat down on your patio furniture. Another reason that indoor-outdoor furniture is great for the sunroom is that the high quality upholstery used in good patio furniture is fade resistant. While the sun will eventually cause fading and damage to almost any upholstery, you can get many extra years out of the right weather resistant fabric.
Fast Drying Fabric for a Humid Sunroom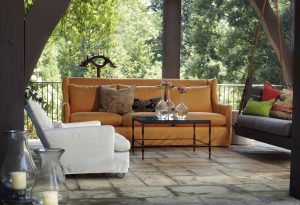 While many sunrooms today are completely enclosed with double-pane windows and even temperature controlled with heating and cooling systems, others are just screened in porches. Iowa summers can get hot and humid. A regular sofa will likely stay damp for long periods of time and get even moldy.
Whether you're looking for a complete patio furniture set for your 3 or 4-seasons room, or just need the upholstery refreshed with new cushions, you'll find beautiful options at Dwell Home Furnishings & Interior Design. Our designers and upholstery department staff can help you find the perfect furniture or upholstery for your room if it is totally enclosed or a little exposed to the weather.