Abby on Active Listening and Understanding Clients' Goals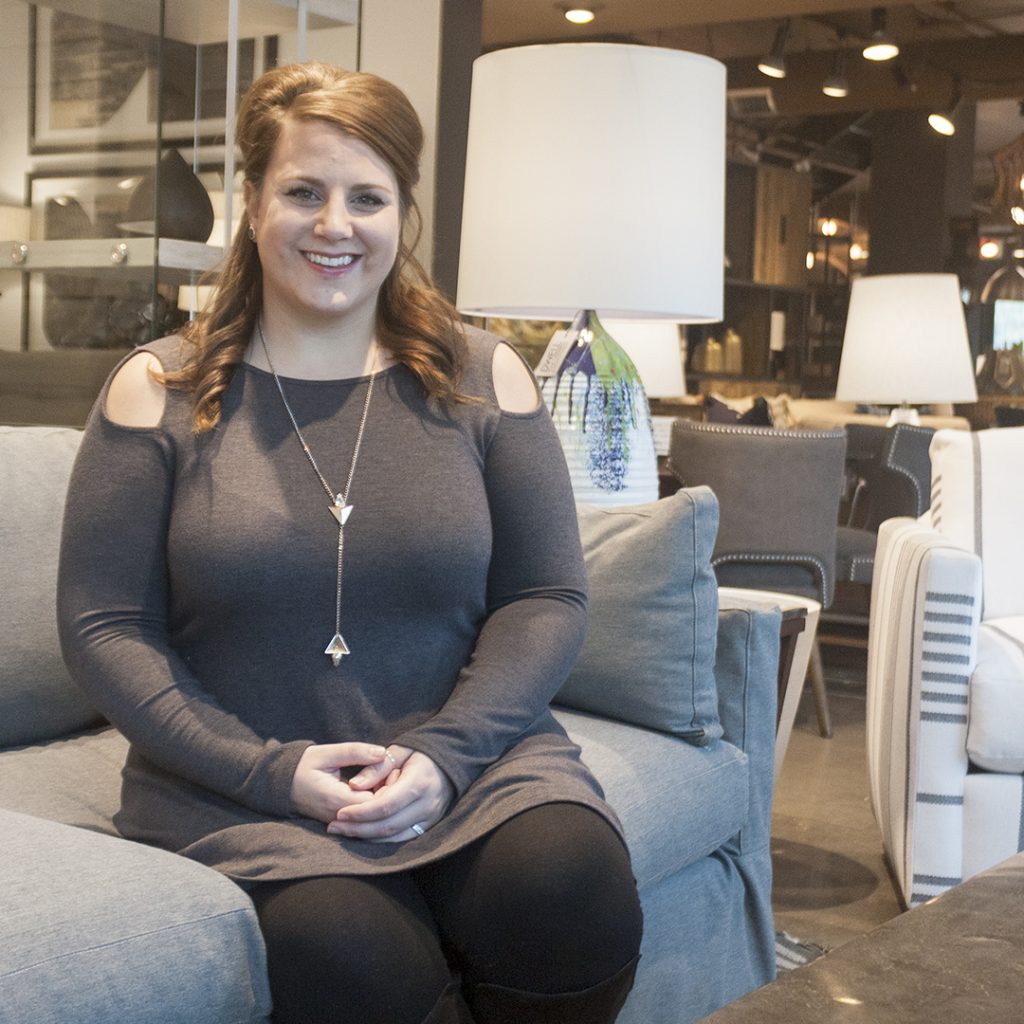 You may believe that an interior designer's responsibility is to tell you what to do with a given space, and if you're seeking advice, this is certainly a part of their job. However, many clients know what they're looking for, but have a difficult time expressing it with words and pictures.
We spoke with Abby Craighton, Interior Designer at Dwell Home Furnishings to hear her story and learn the unobtrusive approach she uses to make clients' dreams a reality.
Q: How did you get started doing design?
It goes way back to college. I was majoring in theater and I was into the whole scene but mostly interested in costumes and sets—the creative side of it. My brother suggested I try something in the design world. As my older brother, he could see my talent and where I could grow. I took an interior design class and I was immediately hooked. I switched my major the day after the first class and joined the design program, which I loved. It was fantastic. After graduation, I got an internship at a design firm, was there for a little over five years, and then came to Dwell Home Furnishings and I've been here a little over two months.
One thing I like about Dwell is the size of the showroom, and the ability to have lots of products on the floor that our customers can look at and see. In a very online world, being able to show them samples and colors, exactly how something sits, and the comfort level they will get is extremely valuable. Even if they special order something, you can show them what it's going to sit like and what the fabric will be like. A lot of clients have a hard time visualizing a design and anything we can do to help with that definitely benefits the whole process.
Q: What else sets Dwell apart from other design firms?
Dwell is a fairly large company in our industry for being a locally owned small business. There's a big group of designers and we have more of a team mindset here. Yes, we each have our own projects, but we ask the opinions of the other designers. This leads to our customers receiving a nice well-rounded design because there's input from several designers as opposed to just one.
Q: What is your favorite thing about what you do?
Obviously, the finished product is the fun part. But I also really enjoy it when a client has lived in a space I've designed for a while and grows into the choices we've made together. That's the point at which I get to see our hard work exemplified and they are able to truly appreciate the vision we had all along. The very best part is when they say, "This is the first time space has felt like our home and not just a house."
Q: That's the true test because sometimes there's that shock factor with the initial reveal.
Yes, everything looks great at the final install, but now after they've lived in it a while, it not only still looks great, but it's passed the functionality test and it turns out to be exactly what they were looking for.
Q: You say you work here more as a team, so you get to know the other designers pretty well. Is there anything that is unique about your approach?
Definitely. We all have our own approach. Mine is very detailed-focused, but I have my own short hand, so while the process might look messy to someone else, in my brain it all makes sense. It's how I figure it all out down to the smallest detail; leg finish, welt color, pillows, etc. I have a very creative process, but it's functional to me.
As for how I work with clients, I always try to let them talk as much as possible. I want to get their voice, and get what they're looking for before I give any input. I don't want to insert an idea that could lead them in the wrong direction. I let them describe what they're looking for, any problem areas, and their sense of style, so I can go back, interpret, and fill in the blanks.
Q: So instead of guiding them, you're more focused on listening and interpreting.
Yes, if you ask a client if they like something specific, and they say yes because they want to be polite, you could end up building an entire design around one piece they don't even like. What you're left with then, is a design that isn't for them at all.
We have so much to see and everything here is gorgeous, but one specific look may not be your style and it may not be something you'd like to live with for 20 years. That is why having interior designers on hand is so beneficial. We are able to help dig deep and find the pieces that speak to each of our clients. We definitely have something for everyone!
Q: What do you spend most of your time doing at Dwell?
A lot of it is background or behind-the-scenes work and searching for the product. I think that's what I spend the most time doing. Especially when it's something specific and you have to really search all your vendors to find that perfect piece. I really enjoy this part of my job because it's a hunt and the hardest items to find are so much more satisfying when you finally do find them. It's not just something that could work, it's the "nail on the head" piece.
Q: What's something you're fascinated with right now?
Right now, it's style mixing. There are tons of different design styles, but what I've been drawn to lately is mixing different styles together and creating a layered design including an element of traditional and an element of something modern. I like to make a more curated look as opposed to something that has to fit into a rigid style. A little more cohesive than an eclectic look, it has hints of other styles but everything ties together as a style of its own.
Q: What are the benefits of this technique?
It lasts longer over time because it has pieces that you can emphasize one way or the other. So maybe you start with a very traditional design but as you grow, your style becomes more modern. The layered design allows you to ease your way into that without locking you out. It doesn't limit you to a trend that could be dead in a year. You have the ability to evolve within your design.
Q: What's the most important skill you have and what's something you'd like to learn?
One thing I have learned is how to interpret what customers haven't said. A lot of people can tell you what they don't like and they can show you pictures, but it's difficult for them to pin down exactly what they want. Taking in all the information and interpreting their dream from that has been my biggest learning curve. In school, you learn all the elements of design and the technical background but you don't really get a sense of how to talk to clients and ask the right questions. That's probably 85% of this job and you really learn those things from experience.
Lighting is something I'd love to experiment more with. I know what will look good and I know how to mix different lights, but I'm interested in the more technical side of it. Different light fixtures have certain wattage and lumens and knowing what's going to be just enough, too much, or too little for a given space is a valuable skill. I know there are specific lighting designers that focus on this alone and that's something I'd love to learn more about to give me that advantage when helping clients.
Q: Are there any design myths you can bust?
You definitely don't have to spend a ton of money in order to achieve good design. What a lot of people might not know is you can hire us for design advice and then use that to pick out items that are within your budget. Or we can break things down into stages. We can start with a dream plan and execute it room by room or piece by piece. Having a plan from the beginning helps the entire space flow and feel like it was done all at once.
Another myth clients get stuck in is the odd numbers rule and I would say it's not as strict as people think. Sometimes it works out that way and odd numbers do work better, but it's more of an overall balance and symmetry that's the priority.
In general, a lot of myths come from people who get a rule in their head and they think they have to follow it. The fun part about design and being a designer is breaking out of the box and being innovative and unique to create something that speaks.
Contact Abby for a quote or to schedule a consult.