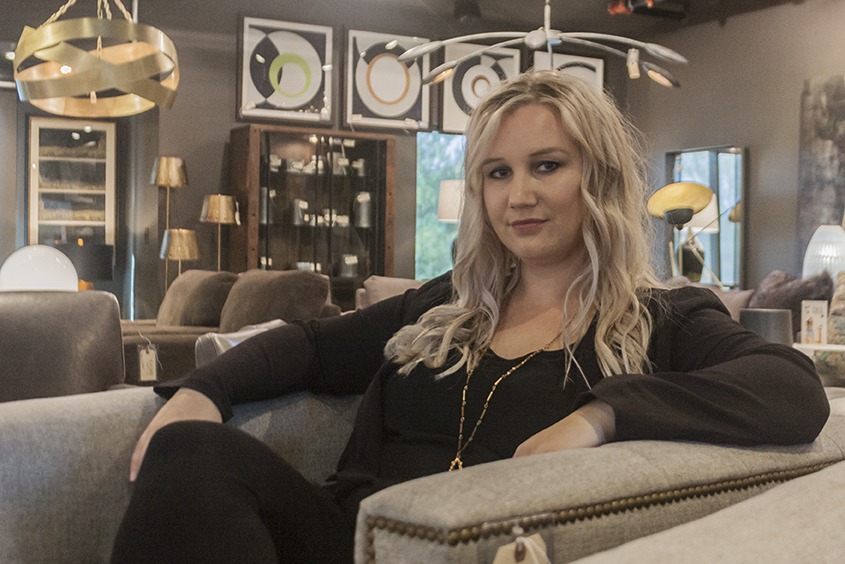 Interior design and art have much in common—color schemes, patterns, shapes, and filling space—but how do you know when to take artistic liberties and when to keep it familiar?
We spoke with Susanna Sosa, Interior Designer at Dwell Home Furnishings, to hear her story and learn the value of creativity and communicating with customers.
How did you get started at Dwell?
What might be a little different from the other designers at Dwell is, I didn't have an immediate interest in interior design. I've always had a creative focus in life. I've done a lot of art; sculpture, art history, and I spent my childhood drawing and rearranging my bedroom, but I struggled to find a career that gave me that creative outlet and could support my family financially. I went through a period in my life when I had kids, I had a job, but I wasn't satisfied. So in my mid-twenties, I went back to school. At that point, I just wanted to be creative on a daily basis and that's how the interior design came into my life.
I've found that interior design is an exciting field to be in. It's doing something different every single day. No project is the same and no client is the same. We have over 200 vendors and tons of selection. There are always new and beautiful products being produced, following the newest design trends. Bringing those trends to the Midwest is something that Dwell excels at. There are fun challenges and obstacles that we face with every design.
You said you have experience with art in other mediums. How does what you learned in those classes carry over to what you're doing now?
When you're drawing, you've got a big empty space and you have to fill it up and do so appropriately. A lot of times, whatever it is you're creating is balanced with void space and shapes and colors and lines in a way that is interesting but structured. You have to do the same thing when designing a room. It's a lot of the same play, visually.
We use a floor plan that depicts furnishings to scale, which is designed to help customers visualize how their selections will fit in a space. We also use a presentation page where we showcase all the selections, whether they're online or from the store, so the customer can see how the finishes work together. The floor plan is more for scale and the presentation page helps clients see how the different styles and furnishings work together in the room. These are extremely helpful tools that we're happy to offer to clients. We also have textiles for fabrics, leathers, and carpeting so they can experience the selections we're making for specific pieces. It's our goal to make sure the customer knows exactly what they're getting!
With some forms of art, you're either doing it for yourself or you're simply putting something out there that people get to experience temporarily. With the design, you're creating a space in which someone lives and shares with other people as a reflection of themselves.
Yes, exactly. Often when you are working with clients you have a vision, for them, based on their needs and the way they have envisioned using their living space. It is my responsibility to communicate that vision to them. I have learned, over time, how to explain both the process and end result.
Between all of us designers, our personalities tend to attract the people that we mesh with the best. I always get the people that are a little bit funky; they want something different and they're typically laid back like I am. It's interesting!
That is interesting, but it makes sense. If I came in here searching for something, I'd look for a professional who knows my tastes.
Yes, a lot of it is communication. You find someone you can communicate your ideas with openly, somebody who's willing to listen. We all kind of need different things from people, it's just funny how it ends up working out that way. My people find me here [chuckles].
I heard you recently worked on a Parade of Homes project. What is that like?
The exciting challenge for parade homes is the timeline that they're working with. Typically, they need things pretty quickly, so often times we're finding pieces that work together in the showroom, things they have access to immediately.
I really enjoy the Parade of Home projects. In the most recent one I worked on, there was an indoor pool and a guest suite. There were a lot of layers to that project because we were working in such a large space. Everything from furniture to bedding to artwork. The typical client spaces things out in phases whereas this project is completed pretty much all at once. I worked for about a month straight on this project nearly every day.
I often hear the phrase, "Design never sleeps." What's one way you stay up to date?
I try to do a lot of personal investigation on my own time. I'm always on Pinterest and Houzz when I'm not at work. There are many industry magazines that we have on hand at Dwell to look through. I'm looking forward to visiting the showrooms at the furniture markets. There are enormous showcases from vendors all around the world. Dwell goes on buying trips to market four times a year. There is beautiful one-of-a-kind finds there and it stimulates creativity. If I'm only looking at what I do, I'm not growing. You constantly have to challenge yourself to work outside your comfort zone and expose yourself to the new design, otherwise, your design can get stale.
What's one of your favorite parts about what you do?
My favorite part is really nailing a design! I get to be a detective and really ask questions about their interests, needs, and wants in order to put together a good design for them. I can design all day long according to my personal tastes but that's not what makes a good designer. A good designer designs according to their client's tastes and needs.  I understand that and keep that in mind as I'm gathering information from the customer. As a result, I don't have to go back and change a lot of my designs for clients.  There is no better feeling than to have done a good job of communicating the design with the client so they can visualize the final product from the very beginning. If they are excited and happy with their design, I'm happy!
Contact Susanna for a quote or to schedule a consult.
https://www.dwellhomefurnishings.com/wp-content/uploads/2019/01/Blog-Post_Susie.jpg
564
845
Dwell Home Furnishings
https://www.dwellhomefurnishings.com/wp-content/uploads/2019/01/Dwell-03.svg
Dwell Home Furnishings
2017-11-06 22:32:48
2021-04-28 08:47:47
Susanna on Communicating Creativity